| | |
| --- | --- |
| NetResults Tracker Help | |
| | |
| --- | --- |
| Color Preferences | |
Color Preferences can be set to customize the look and feel of the pages in Tracker. You may wish to change the color preferences from their defaults so that the Tracker pages reflect the color scheme of your web site or organization.
Topics Covered In This Section

Color Preferences

To set the Color Preferences:
Login to the workgroup as Admin
Click on the Admin icon in the top button bar
Click on the Color Preferences link
To change the color of an item, select a color from the pulldown or select <Custom> to enter the Hex code. Hex code must be in the format "#XXXXXX". An explanation of each item can be found below. Your selections are displayed in a preview to the right of the preferences.
Click on the OK button to save the changes
A Reset button is available to reset the color preferences to their settings as of the last time the Color Preferences were saved. A Cancel button is available to return to the Admin section without saving any changes to the Color Preferences page.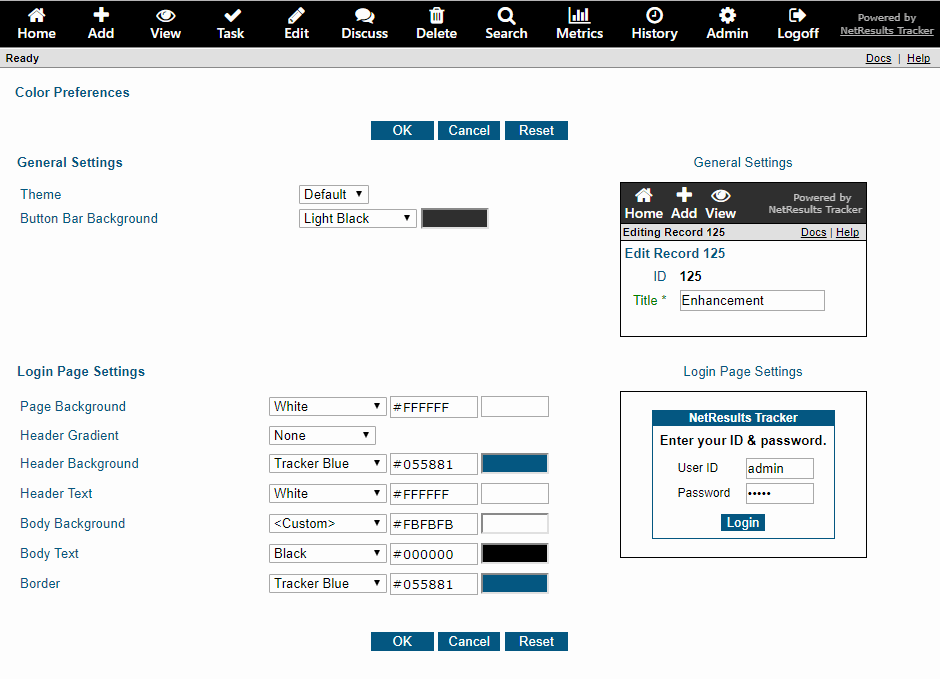 General Settings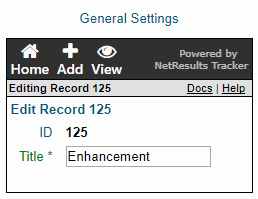 Theme - select the "Default" Tracker theme or select "Custom" to use the color preferences that have been changed from the default setting.

Button Bar Background - The color used in the background of the Button Bar in the Tracker pages (e.g. the area displayed in black behind the text "Powered by NetResults Tracker" in the General Settings Sample).
---
Login Page Settings
The Login Page settings are available for customizing the color of the Login Page and Self Registration Page (if applicable).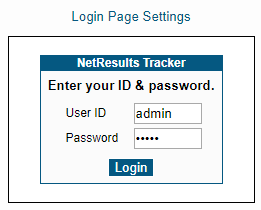 ---
Color Preferences for other Features
The color preferences for the following features can be found in other sections:
---
NetResults Tracker © 1997-2021 NetResults Corporation. All rights reserved.